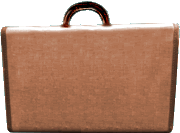 Here are photos of our shop after the winds from May 7, 2009 

  DISASTER STRIKES 

MY ANTIQUE STORE!!!!

Thursday May 7th  11:50pm just after the storm!

As you can see, the building housing our shop sustained considerable damage.  We have been told the wind only lasted about 20 - 30 seconds!!!

The third floor of the building is laying in the street or on top of the building next door.  They sustained  damage to their roof as well.  

My Antique Store is now closed at this location.  Our inventory is fairly intact, but we had to pack it up and get it out quickly.  A big thanks to everyone who showed up to help pack!!!!  It was an enormous job and we could not have done it without you!!!  God bless you all for the love and help you have shown us!   We are truely grateful.  Thank you to everyone who called to check on us as well.   Your prayers are appreciated!

Thank you for your business all these years and thank you for your friendship, care and concern!  

                Mark & Audrey Stewart

NOTE:  We have opened at a new location! Come visit us at 1007 W. Delmar Ave, Godfrey, IL 62035. We are listing a large part of our old inventory on eBay as we have time, along with all the new items Mark is out buying daily. All can be viewed in person at the new location.